Keti Koti Path
What is Keti Koti? During Keti Koti, we commemorate and celebrate the abolition of slavery in the Netherlands and Suriname. The commemoration itself takes place on 30 June. We celebrate liberation on 1 July. On this day in 1863, the Emancipation Act came into force and slavery in Suriname and the former Dutch Antilles was abolished. Keti Koti, pronounced: [kittie'kottie], literally means Broken Chains. In Amersfoort, there are still no monuments to commemorate Transatlantic slavery but you can walk a specific route. he route follows streets and meanders through areas that are connected to the Transatlantic slave trade in South East Asia and South America.
The Creators
Keti Koti Amersfoort aims to provide a contribution towards expanding awareness of and familiarity with the Dutch slaving and colonial past in Amersfoort. The concepts of connection, freedom, equality and enrichment are central. The 'Stichting Comité 30 juni-1 juli Amersfoort' a.k.a. Keti Koti Amersfoort and Art 1. MN aims to use education, dialogue and other activities to motivate the population of Amersfoort to engage in conversations with one another. By regularly focusing on the collective history, the committee would like to expand awareness of how the past impacts on our contemporary society.
Keti Koti Amersfoort endeavours to support the creation of a city in which residents have understanding and respect for one another and embrace diversity. In an era characterised by an ever-increasing us versus them culture, it is important to look at our similarities. Once we know what connects us, we can look towards the future with confidence. All the sides of this story must be highlighted and this route helps to do just that.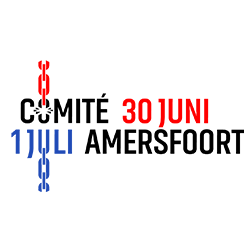 The Importance Of This Route
The story of slavery is embedded in our language, culture, school books and institutions, and it influences us. eti Koti Amersfoort believes that knowledge about our shared past will support dialogue that will, in time, help to establish mutual understanding. This route will create a basis regarding our collective slave-related past and also highlights how the Netherlands benefited from the suffering of hundreds of thousands of slaves.
The route was walked during the very first commemoration and celebration of Keti Koti in Amersfoort, on 30 June 2021. A collaboration between Stichting Comité 30 juni/1 juli Amersfoort, Ninsee, Gemeente Amersfoort, Archief Eemland and Artikel 1 Midden Nederland.
The Route
The Stories
Click on the illustrations for the stories behind the location