The Colonial Walk
2. – Pieter Both (1568-1615)
Pieter Bothlaan
Pieter Both, born in Amersfoort, was the first governor-general of the Dutch East Indies. In 1609, he was appointed by the 'Heren XVII' to improve organisation of overseas matters. He had to find a suitable port which could serve as the administrative and commercial centre of the VOC in Asia. He also had to set up the Council of the Indies so he could lead the overseas organisation. He left at the beginning of 1610, with sixty passengers on board, and arrived on Java on 19 December 1610. Initially, the intention was to choose the Moluccas as the administrative centre. The Moluccas, however, could not produce enough rice to sustain the population and the VOC officers. Both therefore opted for Jakarta on West-Java. He decided to agree a treaty with the ruler of Jakarta which encompassed free trade, the establishment of the support point, and mutual support.
(Text continues below the photo)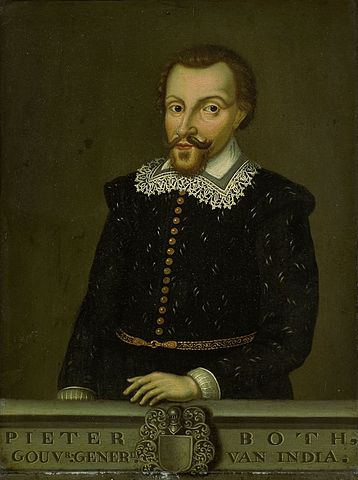 In 1612, Both bought a piece of land from the ruler of Jakarta and built a brick house with fenced-off grounds. Unrest off the coast of the kingdom of Jakarta led to the creation of the shipyard where the ships of the VOC could be repaired. VOC officers who worked there could cross to Java twice per year. Both thus became one of the founders of the city of Batavia (now Jakarta). Both, however, did not last long as governor-general. When his trading and general approach drew harsh criticism, he had to hand over control to Reynst in 1614. He departed at the start of January 1615 on the ship Banda from Bantam. The fleet comprised three other ships. Together, they had a cargo of gold worth 4.5 million guilders in the holds. Both, however, would never see Amsterdam again. The Banda was battered by a huge storm off the coast of Mauritius and sank on 6 March 1615. The two other ships sank too. Both swam for the coast but died of exhaustion on the way. The second highest summit on the island of Mauritius is still called the Pieter Bothberg.