The Colonial Walk
3. Johan van Oldenbarnevelt Gymnasium
(Thorbeckeplein 1)
Johan van Oldenbarnevelt was born in Amersfoort in 1547 and beheaded on 13 May 1619 in The Hague. He was one of the most powerful politicians of the Republic of the Seven United Netherlands. In 1586, during the Eighty-year war, he was appointed government attorney and Grand Pensionary of Holland. He was the most powerful man in the most influential region.
Van Oldenbarnevelt was one of the founders of the United East India Company (VOC) in 1602. Until 1602, groups of traders sent out on various expeditions to Asia in order to compete with Spain and Portugal. On the initiative of Van Oldenbarnevelt, all private companies that traded in the Far East were united within the VOC.
(Text continues below the photo)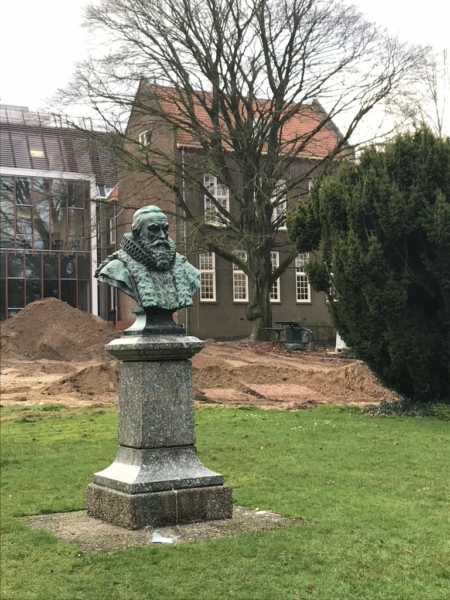 The VOC was given the exclusive right to trade in Asia by the States-General. It was authorised to conclude contracts in the name of the Republic and wage war with Asian kingdoms. The leadership of the VOC in the Republic was in the hands of the 'Heren XVII' (Lords Seventeen). The VOC expanded to become a successful commercial business which engaged in regular violence to achieve its aims. Under the political leadership of Van Oldenbarnevelt, and the military leadership of governor Maurits, the young Republic excelled both politically and economically. 
Maurits and Van Oldenbarnevelt, however, later disagreed about politics, military and religious issues. This ultimately led to the arrest of Van Oldenbarnevelt and he was ultimately found guilty of high treason. After a show-trial, the 72 year old politician was beheaded in the court of The Hague in 1619.